DAVID CROCKETT
David Crockett was born 17 August 1786 in now Greene County, TN which was at the time the Western Territory of the State of North Carolina. Tennessee did not come into existence until 1796 when Crockett was thirteen years old. Crockett was born in North Carolina. He traveled and hunted the Blue Ridge mountain area. He married Polly Finley in 1806 and she gave him three children before she died in 1815. Crockett then married the widow Elizabeth Patton of Swannanoa, Buncombe County, North Carolina. She was the daughter of Robert and Rebecca Patton. She brought two children to the marriage and then gave Crockett three more. Crockett soon went into politics and was elected first to the Tennessee legislature and then to the U. S. Congress. When he lost his re-election in 1835 he headed to Texas in search of new opportunities. He left with a friend, his wife's brother-in-law and his wife's nephew.
Upon arriving in Texas the friend and the brother-in-law turned back. Crockett and nephew William Patton enlisted in the Volunteer Auxilliary Corp for six months on January 14, 1836.
They arrived in San Antonio (then called Bexar) early in February 1836. When the Mexican army arrived they retreated to the Alamo Mission. On March 4th Crockett and Patton rode out to see if Colonel James Fannin from Goliad was sending re-enforcements. Fannin failed to show, and Crockett sent his nephew with the last three letters written by Colonel William Travis, the commander of the Alamo, to Gonzales to inform the Texas government on the siege status. In John Wayne's movie, The Alamo, the event is depicted when Crockett sent "the kid Smithy" (Frankie Avalon) to Gonzales with Travis' last letters. William Patton was unable to return before the fall of the Alamo where his uncle, Crockett, died. Patton then joined General Sam Houston's army at Gonzales on March 17 and fought at the Battle of San Jacinto on April 21, 1836 along with thirty-six other freedom loving North Carolinians. No doubt he was one of those who went into battle yelling "Remember the Alamo." Patton continued to serve in the Texian Army as did other North Carolinians.
David Crockett's son Robert Patton Crockett later went to Texas to administer his father's claim for fighting and dying in the Texas Revolution. Elizabeth Patton Crockett, his widow, moved to Texas in 1854 and take possession of the 640 acres she finally received. She died in Texas in 1860 and is buried in the Acton Cemetery in Hood County. The State legislature had erected a monument in her honor in 1911 and the site today is the smallest state park in Texas. Pictured below is the monument in the Acton State Historical Park. Crockett County is named in honor of David Crockett.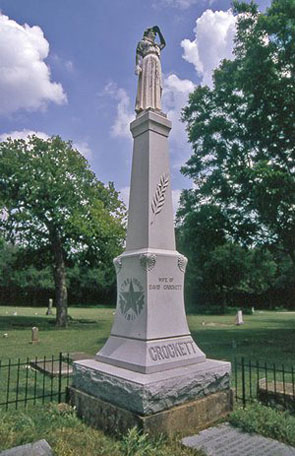 Return to NC Connection page
03.09.2014