Robert Potter
Robert Potter was born June 1799 in Granville County, NC near Williamsboro. His parents were Thomas and Susanna Walker Potter. At age 15 he joined the U. S. Navy and served 6 years. He retired in 1821 and studied law. He was elected from Halifax County to the North Carolinia House of Commons in 1826. In 1828 he was elected again, but this time from Granville County. In 1831 he "Potterized" (castrated, listed as maimed) two men he thought were having an affair with his wife. Neither man died but Potter went to jail for two years. Upon his release he ran for the House of Commons again and was elected from Granville in 1834. He was thrown out of the House on trumped up charges, probably because of the maiming incident. His wife divorced him and he left North Carolina.
Potter arrived in Texas 1 July 1835. He joined the Nacogdoches Independent Volunteers in October but resigned in November to go into the Navy by way of a commission of marque and reprisal issued 1 December 1835. On 1 Feb, 1836 he was elected to represent Nacogdoches Municipality with three others to the Constitutional Convention. Potter made the motion for the Convention to adjourn and march to the support of Travis at the Alamo. Instead the convention stayed and drew up the Declaration of Independence on March 2 and then the constitution of the Republic of Texas. On 17 March he was elected ad interim Secretary of the Navy of the Republic. On 20 April he was appointed commander of the Port of Galveston by President Burnet. At Galveston the Interim Government was under his care. He was subsequently elected to the Senate in the 5th and 6th Congresses. Potter was killed 2 March 1842 in the Regulator-Moderator war.
Potter County was named in his honor.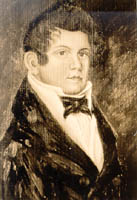 Return to North Carolina connection
4.21.2014