Samuel Price Carson
Samuel Price Carson was born 22 Jan. 1798 at Pleasant Gardens, Burke County, NC. He was the son of the American Revolution Col. John Carson and his second wife, widow Mary Moffitt McDowell. The home place was built in 1793 by his father and today still stands as the Historic Carson House. The site became part of McDowell County (named for Samuel's mother's father, an American Revolutionary General, the hero of the Battle of King's Mountain) which was carved out of Burke County in 1842. John Carson donated nearby land for the city of Marion to be the county seat. Marion was named for Francis Marion, the famous "Swamp Fox" of the American Revolution and the man upon whom the movie "The Patriot" was based. Being surrounded by such freedom loving role models influenced Samuel's character.
Carson was elected to the NC State Senate in1822-24 and then to the United States Congress in 1825-33. In 1834 he was re-elected to the NC State Senate. He was elected from Burke County to the North Carolina Constitutional Convention. He was against a provision that would prohibit Roman Catholics from holding office. Carson became interested in the Texas area and began investing in property. He was elected to represent Pecan Point and Vicinity in the Texas General (Constitutional) Convention in March, 1836. In the Texas convention he favored religious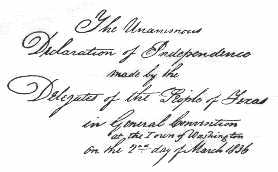 freedom for Protestants as well as for Catholics. Carson and fellow North Carolinian Robert Potter were the only two members of the Texas Convention that had served in Congress and thus much was expected of them. Carson was a signer of the Texas Declaration of Independence on March 2, 1836 and voted to adopt the new constitution of the Republic of Texas. Carson was narrowly defeated in the election for Interim President. He was however elected Secretary of State of the new Republic. Due to ill health he took leave of the office and was sent to the United States to garner support for the Texas campaign. Unfortunately Carson did not survive his ill health and died 2 Nov. 1838 while in Hot Springs, Arkansas. Carson was married to Catherine Wilson, also born in Burke County, North Carolina and had two children, Racheal Rebecca and by adoption, Emily.
Carson County, Texas was created 21 August 1876 and was named in his honor.
Return to North Carolina connection
4.21.2014