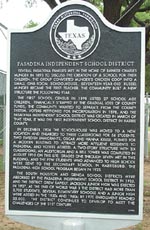 Pasdena Independent School District Historical Marker is located on the east (left) side of Shaver Street (one way southbound from State Highway 225) at Broadway Street in Pasadena.
The marker reads as follows:
Several Pasadena families met in the home of banker Charles Munger in 1893 to discuss the creation of a school for their children. The group converted Munder's chicken coop into a small, one-room shcool house. Seventeen-year-old Russel Munger became the first teacher. The community built a new structure the following year.
The first school census in 1898 listed 27 school aged children. Financially strapped by the gradual loss of county funds, the community wanted to separate from the county system. Voters petitioned for incorporation in 1898, and the Pasadean Independent School District was created in March of that year. It was the first independent school district in Harris County.
In December 1904, the school house was moved to a new location and enlarged to three classrooms for 56 students. Two Swedish immigrants, Oscar and Hanna Kruse, pushed for a modern building to attract more affluent residents to Pasadena, and voters agreed. A two-story structure with six classrooms, an auditorium and a bell tower was completed in August 1910 on this site. Grades one through seven met in this building, and the few students who advanced to high school were sent to the secondary school in Harrisburg. The Pasadena Hight School program began in 1923. The South Houston and Genoa school districts were absorbed by Pasadena Independent School District in 1935, and the district grew rapidly. Jackson Junior High was erected in 1937. At the end of World War II, the district had more than 3,700 students. Several elementary schools and a junior high were added in the 1950s and 1960s. By 1970 enrollment reached 35,000. The district continues to develop to meet the challenges of the 21st century. (1999)
---
Return to Historical Markers' Page
1.08.2017