San Jacinto College
announces the creation of the
Pomeroy Collection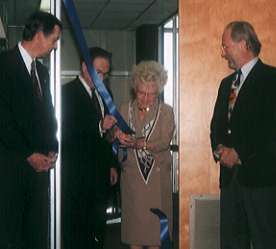 President Dr. Monte Blue and author C. David Pomeroy, Jr. watch as Clyde D. Pomeroy and Bessie (Pomeroy) Stack cut the ribbon.
---
Pomeroy family personal papers and other historical records compiled for the book Pasadena, the Early Years have been donated to the library at the San Jacinto College, Central Campus. The gift filled over 50 manuscript boxes, ten map containers and a five drawer filing cabinet. In addition, over 60 volumes were donated on Texas and local history. Approximately 500 photographs & slides are included in the collection.

The records and books have been designated the "Pomeroy Collection" and is located in the Texana Room at the library. A "finders guide" database will provide access to the records. A special web site has been created for Internet access and will contain many original documents on early Texas history and the area's local history.

It is hoped that other local history collections can be obtained in the near future. San Jacinto College is striving to become the central depository of area history documentation. By preserving the documents of our history and heritage, interested parties and future generations will have access to this wealth of information.
---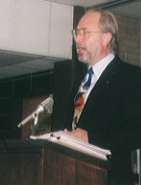 "History is made by the ordinary person simply trying to survive. We must save and cherish those memories as they are our history and our heritage."
---
Karolyn Gephart of the Houston Chronicle writes about the donation in Hunting for History.

The collection was dedicated in 1998 and was housed at the Davis Library at the Central Campus. Subsequently the college decided to remove its Texana Collection and the Pomeroy Collection to make room for administrative offices in the library. The Pomeroy Collection was moved first to the Pasadena Public Library in 2011 and then to the Pasadena Heritage Park in 2015

Return to Home

1.03.2017