Vince's Bridge Historical Marker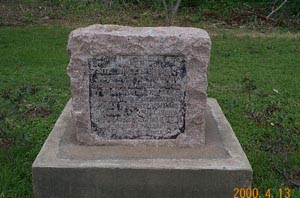 Historical marker at the site of William Vince's Bridge over Vince's Bayou. This bridge was destroyed by Deaf Smith and others to prevent the arrival of re-enforcements to General Santa Anna's Mexican Army. It also prevented both the Texian and the Mexican armys from retreating back along the road to Harrisburg from the battlefield at San Jacinto. Because the bridge was out, General Santa Anna could not escape the battleground and was captured the following day nearby. The historical marker is located on North Richey Street in Pasadena, about a mile north of its intersection with Shaw Street. This is marker No. 18 in a series of markers about the Battle of San Jacinto, placed by the San Jacinto Chapter of the Daughters of the Republic of Texas in 1912.
Site of Vince's Bridge destroyed by military permission April 21, 1836 by Deaf Smith, John Coker, Denmore Reves, John Garner, John Rainwater, Moses Lapham, Y. P. Alsbury. This heroic deed is believed to have insured the capture of Santa Anna.
Vince Family genealogy in Texas.
Return to Historical Marker page
9.26.04