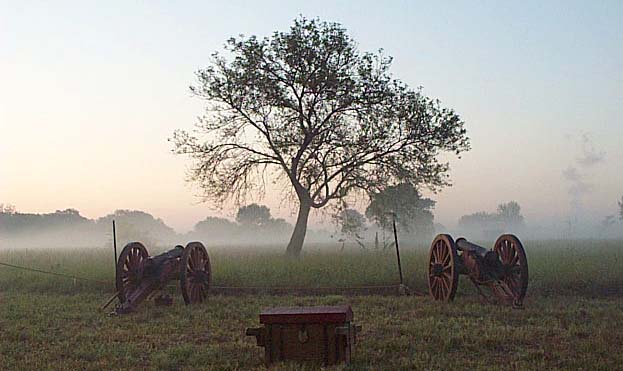 Photograph by Stan Wojcik
The Hunt for the Cincinnati Twin Sister cannon
During the Texas Revolution volunteers and donated material were provided by many sources in the United States. The citizens of Cincinnati took a collection and had two cannon manufactured and shipped to Texas. The debate as to their size and material continues. However, it is generally accepted that the two cannon, dubbed the "Twin Sisters" were delivered to the Texian Army at Groce's plantation on the Brazos River on April 11, 1836. The Texian Army had the Twin Sisters in their possession when they confronted Mexican General Santa Anna on the plains at San Jacinto. The Texians won the day and the Twin Sisters became immortalised in history, or at least, Texas history.
For over one hundred years Texans have been trying to discover what happened to the Twin Sisters after the Battle of San Jacinto on April 21, 1836. The popular theory is that they were shipped to the the federal arsenal in Louisiana when Texas joined the Union. Then they were returned to Texas to defend Galveston during the Civil War. The last report was that they were buried in 1865 by Confederate veterans at Harrisburg, Texas near "the bayou." Many holes have been dug, but no cannon have been found. But what are they really looking for?
It was said that the Cincinnati Twins never left Texas and the two cannon donated to Texas by the Louisiana legislature in 1861 were simply a pair of similar looking cannon. Louisiana placed a dedication plaque on each of the new carriages that held the guns, declaring they were the Twin Sisters. These Twins participated in the Battle of Galveston in 1863 and were sighted in Houston and Harrisburg after the war. But were the "Louisiana" Twins really the "Cincinnati" Twins? Are there two sets of Twins in Texas history?
The clue to the riddle maybe etched on the Cincinnati Twin Sister tubes. Five sources state that the dedication from Cincinnati was etched on each tube in front of the touch hole. The name of the manufacturer, Greenwood's Eagle Ironworks of Cincinnati, was etched on the butt of each gun. If this is true, then the cannon buried in Harrisburg should bear this same inscription. We won't know until we dig them up. If there is no inscription then there are two choices; either these are not the Cincinnati Twin Sisters, or there never was an inscription. If no inscription, then the cannon were probably the Louisiana Twins. Their identification was attached to the carriages and not the barrels. The story of burying the cannon in Harrisburg stated that the carriages were destroyed and only the barrels buried.
On this web site will be posted the latest research on the Twin Sister and this dilemma. Contributions are welcome, but must be professional in quality, and documented. The goal is to find the Twin Sisters and return them to the people of the State of Texas.
C. David Pomeroy, Jr.
---
Send comments
Return to Texas 1836 home page
07.05a.2013