Beason's Crossing
Camp Seven of the San Jacinto Campaign
March 19-25, 1836
March 19-25: Camp near Beason's on the Colorado River. Two Historical Markers, one titled "Benjamin Beason's Crossing of the Colorado River" and the other, "Beason's (Beeson's) Crossing" are located in Benjamin Beason Park, East River Bridge, Highway 90. Although there were several camps for the Army, this is probably not the actual location of the main camp. Archeological work is being done to try to locate the actual site. Mexican General Ramirez y Sesma's camp site opposite the Texas Army camp is marked just west of Columbus city limits on Highway 90.
Beason's (Beeson's) Crossing
| | |
| --- | --- |
| Marker Title: | Beason's (Beeson's) Crossing |
| Address: | |
| City: | Columbus |
| County: | Colorado |
| Year Marker Erected: | 1993 |
| Designations: | na |
| Marker Location: | Just E. of the E. River Bridge at Columbus on S. Side of Hwy 90 in Beason's Park, Columbus |
| Marker Text: | Benjamin Beason, one of Stephen F. Austin's original 300 colonists, settled by a widely used Colorado River crossing near here in 1822. He and his wife Elizabeth proceeded to build a large home (also used as an inn) and established a gristmill, sawmill, gin,and ferry operation at the crossing. His residence and business operations and a scattering of homesteads in the area formed a settlement known as Beason's Crossing. In the early spring of 1836 Beason found his home, family, and complex of commercial buildings in the perilous position in between Sam Houston's Army, camped on the east bank of the Colorado River opposite Beason's crossing, and a Mexican Army led by General Juaquin Ramirez Y Sesma fast approaching from the west. Houston had chosen this site to camp because of its strategic location at the edge of the most populous part of Texas. With his 1500 troops in position, Houston is said to have declared, "on the Colorado I make my stand." Notwithstanding this bold declaration, Houston unexpectedly removed his Army to the Brazos River on March 26th. Beason's crossing was subsequently burned to the ground by a detachment of Houston's Army scarcely hours before the arrival of Sesma's Army. Sam Houston Bicentennial 1793 - 1993 |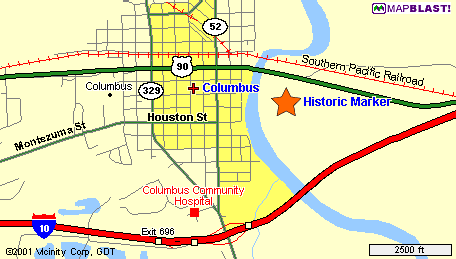 Marker information courtesy Texas Historical Commission's Atlas
and map courtesy Mapblast. Visit Mapblast for driving direction to these site.
Colonel Alexander Horton's fact-based fictional dispatch (more) from this camp gives the flavor of the place and time.
---
Forward to next camp site, back to the previous camp site, go to the complete campsite listings or return to the route map.
8.24.01